Looking for a Real Estate Agent who puts you first?
If you're planning to buy or sell a home, you want the process to go successfully.
I'm proud to be the real estate agent of choice for those who want a great experience buying or selling a home. My "clients-first" approach means that you'll be working with a professional who listens to you, provides expert advice, and works hard on your behalf.
The Expert by Your Side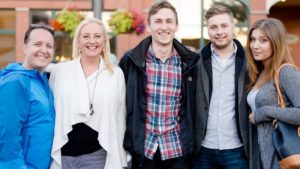 Carol Duvall moved to the Hawthorne Village area of Milton from Brampton with her husband and two sons in 2008.  Her boys attended Milton District High School while her husband Rob Duvall,  established a good footing in Milton with his I.T. consulting business.
Carol started her career in the freight forwarding industry in the mid 80's in the credit and collections department.  After 8 years, Carol realized she needed to be in front of people, so she transitioned into sales and made a successful career selling international freight and customs brokerage until she met her husband who taught for Microsoft and Cisco and had his own thriving I.T. consulting company.
Carol took the plunge in 2009 and left the freight industry after 23 years to join her husband full time in I.T., building computers, networking servers, teaching Microsoft Office and going on to win the Milton Chamber of Commerce Business of the Year in 2014.
Through it all, the success of the family I.T. business has afforded Carol the time to give back to the Milton community.  In
2012, she founded Milton Business Connections, a social networking group for entrepreneurs and small business owners that met bi-weekly to exchange ideas and leads to help its members grow their business.  From 2013-2016, Carol sat on the Board of the United Way of Milton until it's merge with other Halton/Hamilton area United Way's.  In 2012-2013, Carol was a volunteer at TEDxMilton going on to chair and produce the TEDxMilton show in 2017.  (TEDxMilton is a local group of Milton volunteers working together to bring TED Talks of the FirstOntario Arts Centre, Milton.) In 2016, Carol held the position of Chair for Veterans Helping Veterans, a volunteer group helping Canadian vets get off the streets and enabling them to help themselves.
With a 25+ years of sales experience , Carol decided to fulfill her dreaming of becoming a real estate professional. With the support of family and friends, Carol ventured back to school and soon after, joined Royal LePage Meadowtowne Realty with offices in Milton, Mississauga, Caledon, Erin and Georgetown.
Carol is associated with the Real Estate Council of Ontario ("RECO"), the Toronto Regional Real Estate Board "(TRREB"), the Oakville, Milton and District Real Estate Board ("OMDREB"), the Canadian Real Estate Association ("CREA"), and Real Estate Stagers Association ("RESA") and holds several real estate deginations including Sellers Representative Specialist ("SRS"), Accredited Buyers Representative ("ABR") and  Seniors Real Estate Specialist ("SRES").
The Right Real Estate Agent for You
Whether you're buying or selling, it's ultimately about realizing a dream. I understand how much the decision will mean to you. In fact, that's one of the reasons I became a real estate agent – to help people buy or sell a home, while making the process easy and trouble-free. Clients often tell me how much they appreciate my expertise, my willingness to be there with them every step of the way, and my determination to get them the best deal. They also tell me I'm friendly and a pleasure to work with – which is quite a compliment!
Next Steps
If you're looking for a real estate agent, it's important that you find someone who is a good fit for you. So let's talk. Whether you're selling or buying, I'd like to learn more about you and your needs and goals. You can count on me to "tell it like it is" and give you a realistic picture of what is possible.
Contact me to get in touch.
As a real estate agent who puts clients first, I look forward to hearing from you.